Sydney Flat - Uralla
News South Wales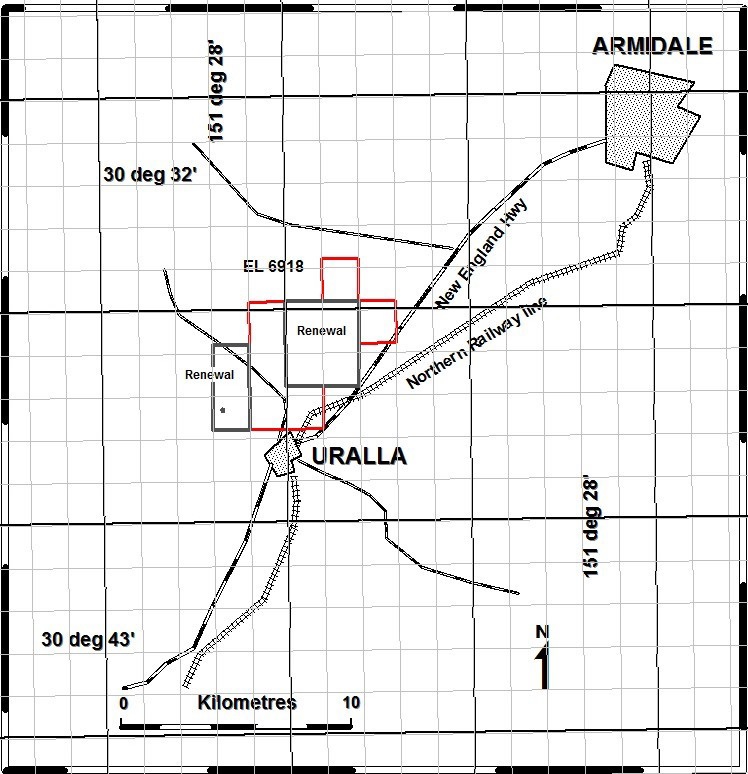 Auriferous Sands / Deep Lead
Sydney Flat (EPM)
EL6918 Sydney Flat is located five kilometres south of Armidale in New South Wales and encompasses the entire historical Sydney Flat Goldfield, including the Uralla deep leads and the projections of the system under cover. A network of sealed roads covers the tenement and the New England Highway cuts through the eastern side. Excellent access is available to all infrastructure, local services and the regional airport.
EL6918 covers the Sydney Flat Goldfield which was worked from 1856 to 1885 over a distance of approximately 5km and produced over 5192kg of gold. The objectives of the exploration program were to identify extensions of the deep lead channels and explore for high grade gold resources similar to those historically worked in the Uralla area.
Results for the drilling completed in 2011 showed good correlation with areas where the channel appears deepest.
During the period a new Ground penetrating Radar technology was applied to a section of the Deep-Lead system with considerable success, the data was assessed and modeled alongside existing drill holes completed by pervious explorers of the site.
The tenement is located in the central New England Fold Belt which has a long history of tectonic uplift and intrusive emplacement. The oldest basement rocks encountered in the region are the Devonian Sandon Beds (hornfelsed greywackes and cherts) which are intruded by Permian granites of the New England Batholith. The Uralla Granodiorite is the main Permian intrusive within the tenement area. Locally the Tertiary Armidale Beds unconformably overlie the older lithologies. The Armidale Beds are analogues of the gold bearing, deep lead deposits. The entire area is covered by patchy Tertiary basalts and recent sediments. Outcrop within the tenement is generally poor due to deep weathering of the tertiary basalts.
The deep leads were thought initially to be long hollows on eroded granitoids formed by a braided stream system approximately 800m wide and up to 35m deep (T.W.E David, 1886). They were also thought to be overlain by silcrete and/or tertiary basalts and exposed where recent drainage channels in the area cut through the profile. The gold bearing wash generally consists of well rounded quartz gravels (hailstone gravels) grading upward into fine quartz sands +/- micaceous clayey sands at the top of the deep lead sequence. The gold is disseminated throughout the wash but the majority is located in the bottom 10-20cm of the deep lead channels in the hailstone gravels and grade varies with direct relationship to width and depth of the channels (T.W.E. David, 1886).
Recent exploration has enhanced the geological knowledge of the area and now demonstrates that the gold bearing deposits are in fact of limited size and are the remains of shallow lake depressions with interconnecting braided stream drainages. The largest of the lakes sits under the Sydney Flat workings of the 1880's. The largest unmined/explored depression lies in a south east/north west trend between Mt Brisbane in the west and Doherty's Hill in the east.
Produced 2% world production for 5 years in a row
Vast high grade deep lead
Surveying and dam construction have been completed
Project Status
Ground Radar
Resource Evaluation in Progress
Fact sheet
Download the Project Fact Sheet with Resource Definition
Download PDF