Mt Wells
Iron, Tin, Gold, Silver and Copper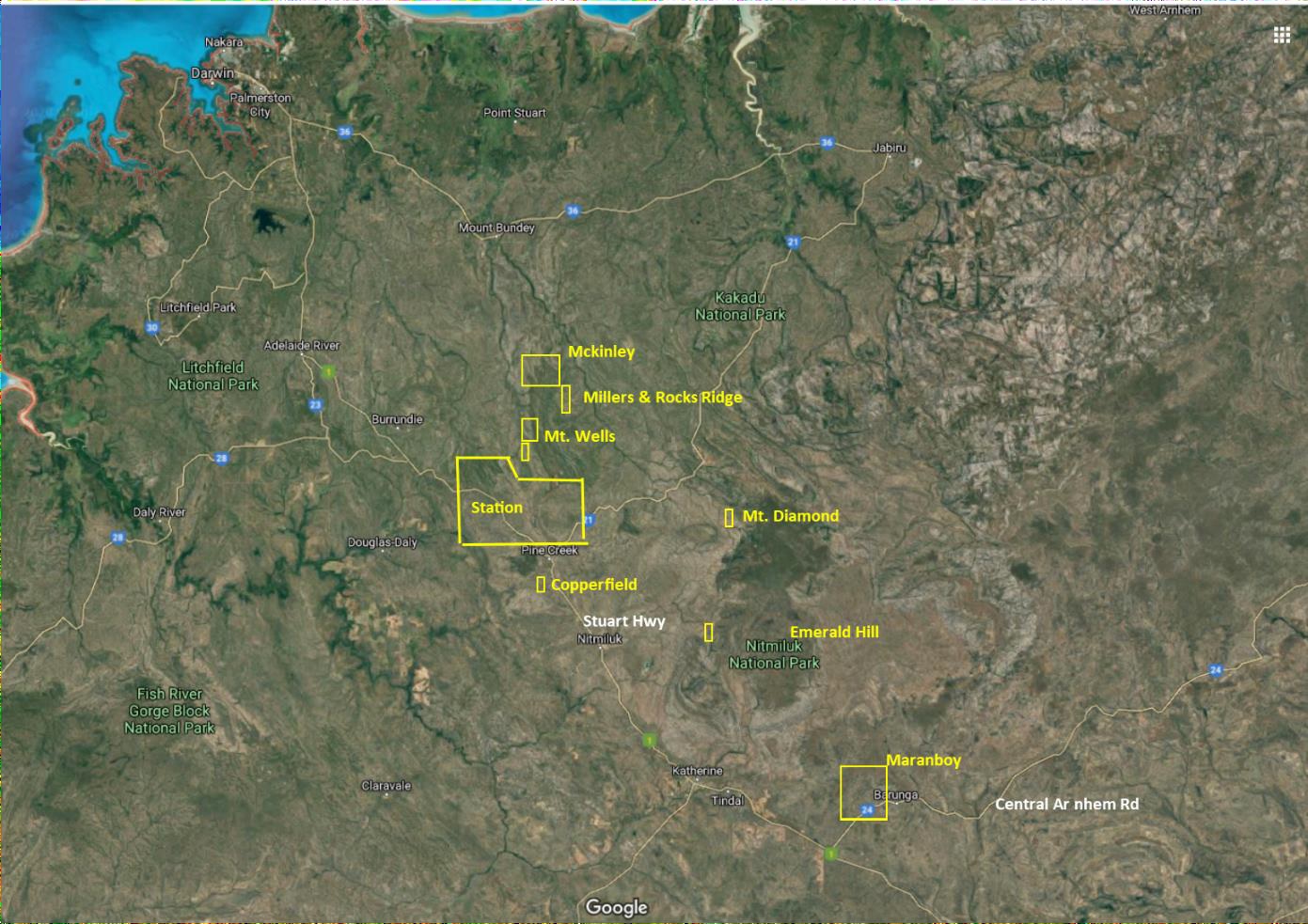 Mt Wells Tenement Location
Mt Wells
The Mount Wells tin-copper deposit has published resources of 737,000 tonnes at 1.38% Sn underground and 400,000 tonnes open cut at 0.4% Sn and a copper resource of 971,000 tonnes grading 1.5% Cu. Work has advanced to confirm a minimum JORC resource of about 1 mt @ 1% Sn, but recent work shows potential exists to substantially expand the resources along strike, laterally and at depth. Potential exists for a 25 million tonne resource at Mt Wells.
The project has granted Mining Leases supported by Exploration Licences. Existing infrastructure includes an adit and railway, tailings and water supply dams, accommodation etc buildings, a processing plant and good access.
Substantial drilling has been completed and modelled. Recent surface sampling has shown extensions of tin and copper mineralization along strike in both directions. Potential for a very large subsurface deposit has also been established by deeper drilling, peripheral outcrop (at the Speargrass deposit) and geophysical interpretation (including EM surveys).
In addition, 5 satellite mineral deposits (eg copper to 6.1% and silver 185g/t, gold to 21.6 g/t and tin grading 4% Sn) with granted Mineral Leases are available to increase ore tonnages for the Mount Wells operation by at least 250,000 tonnes (but possibly an additional 1 million tonnes).
The tenement package covers 163 km2 of geologically exciting country that may have significant potential for the discovery of additional tin copper and gold resources. The tenement package also includes an iron manganese deposit with a JORC resource of 1.28 million tonnes grading Fe + Mn 58%.
A number of resource estimates have been made at various times during the exploration history of Mount Wells (refer reports by particularly Mookey, and Robinson).
Their resource estimates for Mount Wells are:-
RC Mookhey (1971) - estimated 1.5 mt at 1% Sn (open cut + underground) with further potential up to 2.1 mt.
C Robinson (1988) - based on work completed, reported a total resource of 1,177,000t at 1.035% Sn at Mt Wells.
20-50 tph gravity concentration plant is already located at Mount Wells along with workshops and camp accommodation etc. This infrastructure has previously been used for some tin processing and also for toll-treating gold from nearby deposits.
Substantial investment has already occurred on the project with the following infrastructure already in place:-
mill building comprising crushers, rod mill, trommel, jigs, spirals, tables, etc
offices and three large stores buildings
accommodation and messing for 20 people
large dams for water supply, tailings, etc.
communications system, weighbridge, etc.
access roads, haul roads, etc.
adit and railway
bores and water tanks
ore bins, conveyor etc
The plant and equipment, dams etc are located on freehold land of area 40.3 hectares that forms part of the project assets.
Project details
Resource
Tin 1.2Mt @ ~1% Sn
Copper >1Mt @ ~1.5% Cu
Iron 1.28Mt @ ~58% Fe Mn
Project Status
Production
Currently Not Operating
Fact sheet
Download the Project Fact Sheet with Resource Definition
Download PDF